Thirty Years of Experience
John Fister began working in the soft washing industry 30 years ago, starting out cleaning restaurant kitchen exhausts. After several years with a traveling soft washing company, he began a 23-year career with one company that included many roles, responsibilities and experiences. With an eye to the future, John and his wife and partner Wendy started Gentle Pressure Roof and Exterior Cleaning in 2016. John's extensive cleaning experience coupled with Wendy's work history in administration, marketing and office accounting made a perfect formula for success.
Solid Vision
Together, in less than 3 years, the Fisters have built their company to employ two outfitted trucks and a small office staff. With a commitment and focus on being Professional, Trained and Certified, they aim to meet the customer needs and expectations. All staff members are trained in the correct, up-to-date methods of exterior cleaning; every customer is properly advised and will feel confident that they hired the best exterior cleaning company within the Southern Maryland area.
Community Commitment
The Fisters believe firmly in giving back to their community and the military. They have cleaned both Solomons Volunteer Rescue Squad and Fire Department locations, and they give back to the military each month. To show support and care for community events and families, John and Wendy do giveaways, vendor events and more.
Relationships Matter
John and Wendy count themselves, their 5 children and 4 grandchildren fortunate to belong to a vital Southern Maryland community. Family is very important to them, and they value their customer relationships enough to view them as family members, too.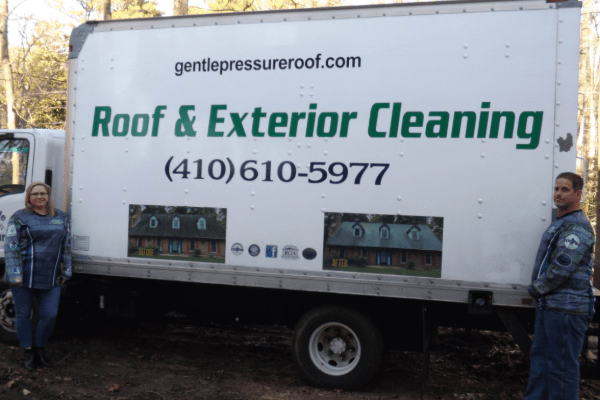 We're Comitted To Your Happiness
Super Awesome benefits for you to enjoy...
Ready To Restore Your Home?